Dear readers,
We are thrilled to have Erin from Domestic Adventure guest posting for us once a month. Erin's blog is filled with great DIY tips, repurposing projects, thrift finds and lots of great recipes. Today, she shares with us some thrift inspiration she found on a recent trip to the Ellsworth Goodwill store. What have been some of your recent thrift inspiration?
Inspiration in Every Aisle
When I write on my blog about some of the Goodwill finds that I've transformed, my readers often comment that they would have completely passed by the items that I decided to take home and make new again. With that in mind, I'm here to share some items from the aisles of my local Ellsworth, Maine, Goodwill store along with inspiration photos to show you how you can make these old things new again in a super stylish way. First up is this dull looking mirror hiding away on a shelf.
I can see this becoming a fun modern piece with just a little spray paint, perhaps in a gray-blue shade like this mirror (image source):
While we're on the topic of spray paint, these green wicker chairs have seen better days and could use a fresh coat. And those cushions could definitely use new covers!
Perhaps they could use a white wash like these updated chairs (image source)?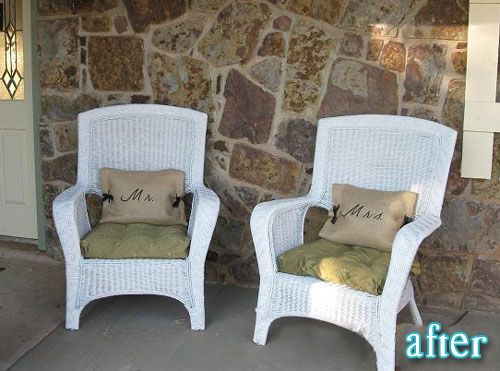 Moving right along…I am always amazed by the sheer volume of glass bottles and vases at Goodwill. Wonder what you could use them for? Well, I have an idea for this selection of white pieces…
Well, if you have a bookshelf to decorate, you could certainly group a few together like one smart blogger has done here (image source):
Next up is the furniture section, which gets me every time. I was so close to picking up these two little tables, which I think would be perfect for a painted kid's desk.
How fun would it be to transform those desks into something bright and colorful, like some smart DIYers did (image source)?
I'm always inspired by more things than I could possibly take on as projects, but it sure is fun to look and dream! So, next time you are at Goodwill, be sure to take a second look at things you might normally pass by!